Expert Garage Door Repair in
Fairfield County CT
Garage Door Service When It Is Convenient For You!
All Phone Calls Answered 24/7
4-Hour Service Call Available
Evenings & Weekends Available At No Extra Charge
24/7 Emergency Service Available
Call Us - Call us now. We want your business and are willing to work hard to keep it.
Make The Right Decision... Call Precision!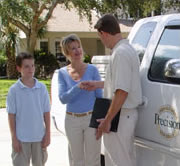 We Fix Garage Doors Right!™
We value your time— When you call Precision, your call will be answered by a live operator and we will schedule your appointment when it is convenient for you.
We provide same day garage door repair service and never charge extra for Saturdays. Please call now and your garage door problems will be over in no time.
New Garage Doors & Installation
We install and repair Steel Garage Doors, Vinyl, Carriage House Doors and Custom Wood Garage Doors for Homes in Fairfield County CT and surrounding areas.
Whether you're looking for the beautiful " Carriage House" style that adds beauty and class to your home, an energy efficient door that keeps your home cool while reducing energy bills, or just want a completely reliable garage door that's affordable, we've got a model that fits your needs. Learn more »
Automatic Garage Door Openers
We install and repair garage door openers in Fairfield County CT.
Check out our line of powerful and durable garage door openers, including convenient features to make your home more livable and secure. Smooth and quiet operation along with reliability are some the things you'll want when you choose the right gargae door opener for you... Learn more »