Precision Garage Door Repair
in Fairfield County CT
Garage Door Repair Within 4 Hours - Guaranteed!
We will be out to repair your door within 4 hours or we will waive the service fee.
During normal business hours
Finally! Garage door repair that is convenient for you!
4-Hour Service Call Available
Evening & Weekend Appointments Available At No Extra Charge
All Phone Calls Answered By Live Operator
24/7 Emergency Service Available
Precision Garage Door in Fairfield County CT and surrounding areas Specializes in Repair and Service: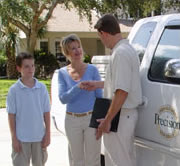 Broken Garage Door Cables
Broken or Bent Rollers
Off-Track or Out of Track
Replacement of Sections or Panels
25-Point Safety Inspection
Garage Door Hardware Overhauls
Noisy Garage Doors Silenced
Garage Door Openers Repaired
Safety Eyes
Why Choose Precision?
Get It Right The First Time-Same Day Call Back Policy
We strive to get every single job we do perfect. And we succeed nearly everytime, but nobody's perfect. So, our pledge to you is that if you discover any problem after we leave, we will return and fix it the same day up to 4pm.(After 4pm, we still answer the phone but we will have to set up appointment for the next day.)
Same Day Service:
Precision Overhead Door has Professionally Trained Technicians with fully stocked trucks, which means we have all the parts to get it done right the first time. Don't waste days waiting for a repair or be put on a wait list. Your time is important.
24/7 Emergency Service:
We have someone waiting to personally answer your call at all hours of the day or night and every day of the week.
Lifetime Limited Warranty:
We offer the most extensive Lifetime Warranty in the industry. Our warranty covers all errors in materials and/or workmanship. (This will be the last time you ever need to repair your door.)
All Major Brands:
We install and service virtually every brand and manufacturer of garage doors and openers. In the years we've been servicing overhead garage doors and operators for homeowners in Fairfield County CT and surrounding areas, there isn't a single manufacturer or brand of residential garage doors that we have not been able to install or repair to our customer's satisfaction.
We Fix Garage Doors Right:
Professionally Trained Technicians - We would never send a "repairman" or "subcontractor" to your home. We stand behind our service with the same dedication that we back our products. You deserve a Professionally Trained Technician. Our service techs are thoroughly trained to know your system, to work fast, and to get the job done right the first time.
You'll be happy to know the technician that comes to your home has been thoroughly drug and background checked. You can meet your technician and access the drug and background check here.
After performing a complete 25-Point Safety Inspection, our service technicians offer their best recommendation based on safety, cost effectiveness, and value to the customer. Our technicians work with your individual needs and will also offer alternate solutions.
Quality Parts/ Superior Hardware - We supply only the highest quality garage door parts, which is why we are able to offer the best warranty in the business.
Please Call Now We Want Your Business And Are Anxious To Solve Your Problem